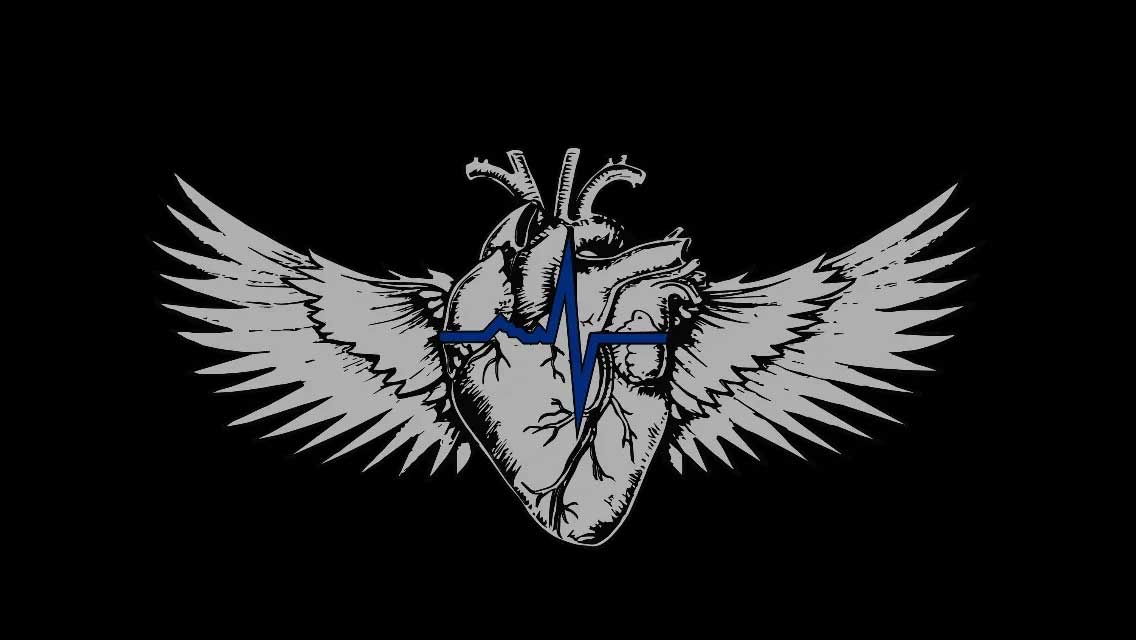 GRIFFITH BLUE HEART
Founded in 2014, Griffith Blue Heart is a registered 501(c)3 nonprofit organization with the mission of preparing, training, and equipping law enforcement to increase out-of-hospital survival of time-sensitive medical emergencies like cardiac arrest, uncontrolled bleeding, drug overdoses, drownings, excited delirium, and more. Griffith Blue Heart is comprised of leading experts in law enforcement resuscitation and systems of care.
Our board of directors is made up of field-experienced first responders and out-of-hospital sudden cardiac arrest survivors. Our board has a wealth of experience working in law enforcement, EMS, and the cardiac industry serving others. Griffith Blue Heart Nonprofit has chosen to put a focus on heart disease which is the global leading cause of death, through law enforcement resuscitation programs and systems of care.
OUR MISSION
"It is the mission of Griffith Blue Heart Nonprofit to prepare, train, and equip law enforcement to increase out-of-hospital survival of time-sensitive medical emergencies."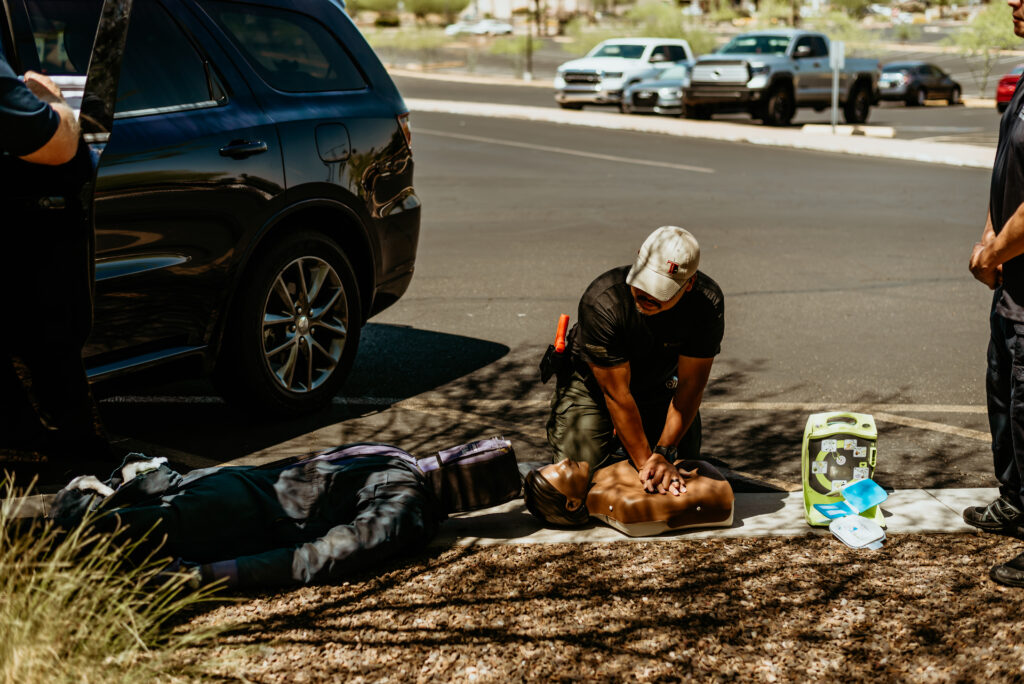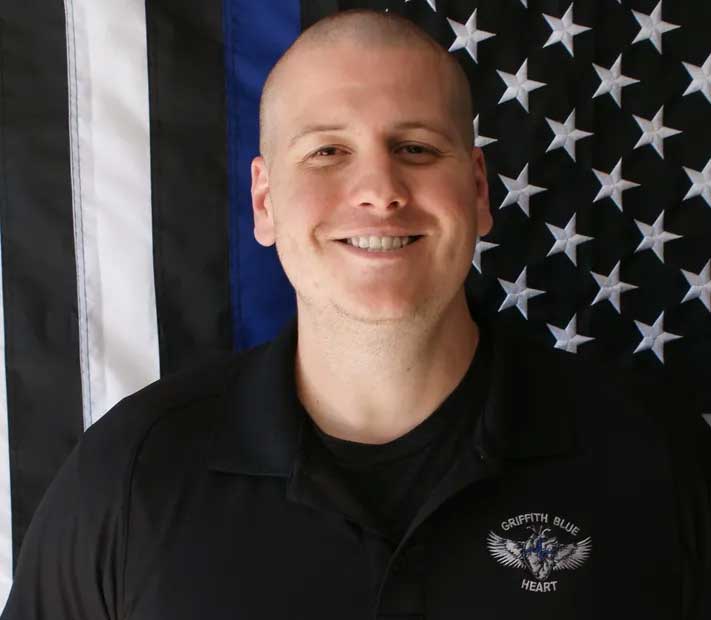 FOUNDER/CEO BRANDON GRIFFITH
Brandon is the Founder & Chief Executive Officer of Griffith Blue Heart Nonprofit and also serves as President on the board of directors. Brandon is a Deputy Sheriff for Pinal County Sheriff's Office, a decorated peace officer, speaker, and advanced instructor with emergency medical training. He is an Arizona native whom believes in a life of service to this great country.
Brandon is an out-of-hospital sudden cardiac arrest survivor who dropped dead in his home at the age of 26 from an electrical malfunction in his heart. He was saved by his wife and co-founder Melissa Griffith. He is one of the few if not the only Police Officer in the  country to return to full active duty after with a defibrillator implanted in his chest. He is one of the founding board members of the Arizona Cardiac Arrest Survivors group where he served as the training and recognition director. He sat on the Citizen CPR Foundation 40 Under 40 Committee and the Survivor Committee. Brandon is on the Arizona Health Improvement Plan Heart Disease and Stroke work group. He is a seasoned and sought after public speaking, conducts recognitions, advanced instruction, CPR/AED advocacy, AED program implementation, and SCA survivor support.

Brandon developed the Griffith Blue Heart programs and services when he returned to the field after his cardiac arrest and realized how unprepared the majority of law enforcement is for time-sensitive medical emergencies. He comprised his programs and much of the curriculum from the field where he uses his emergency medical training. Brandon has served as a field training officer, defensive tactics instructor, firearms instructor, crisis intervention officer as well as a SWAT and combatives instructor for Tacflow Academy.
Brandon has been honored to be decorated with several awards for his actions on and off duty including the Heroism award, multiple life-saving medals, unit citation awards, multiple commendations, recognition from the Arizona Department of Health Services, the Citizen CPR Foundation class "40 Under 40" award, the Phoenix Business Journal "40 Under 40" recognition, and US Congressional Recognition. His proudest accomplishment in life is being a father and husband. His first-hand experience as a cardiac arrest survivor and first responder gives him a unique perspective in his speaking and instruction. Brandon strives to earn each day and hopes to significantly impact survival rates and the cardiac community. He oversees all operations, training and events for Griffith Blue Heart delivering a one of a kind passion and message.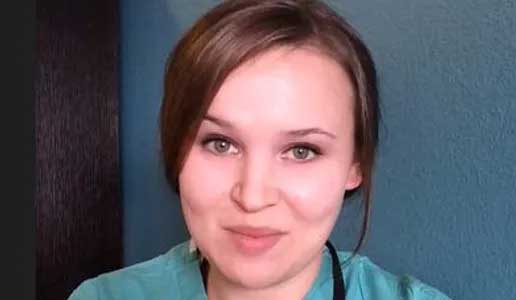 CO-FOUNDER MELISSA GRIFFITH
Melissa Griffith is the co-founder of Griffith Blue Heart and the Director of Cardiovascular Perfusion for Banner Thunderbird Hospital. Melissa is a national certified Cardiovascular Perfusionist who graduated from Midwestern University. Melissa completed her undergraduate in Global Health at Arizona State University. Melissa has always had a passion for medicine and graduated the Emergency Medical Technician program at Glendale Community College before attending Arizona State University. She has been honored to receive several awards to include the Buckeye Police Department life-saving medal, the Mike Patten award, and the outstanding life-saving awards from AZSHARE (Shave Hearts in Arizona  Registry & Education) and Arizona Cardiac Arrest Survivors. 
Melissa is a medical professional whom constantly helps others not only in her profession but, as a volunteer as well. Melissa is not only Brandon's wife and high school sweetheart but, the one who saved his life when he went into sudden cardiac arrest in their home in Arizona. Melissa is a dedicated mother with a mind for problem solving. She believes in helping others and knows that each day is not guaranteed so she also pushes to earn each one. Melissa offers an unmatched insight into cardiac arrest as a savior, mother, spouse, and perfusionist.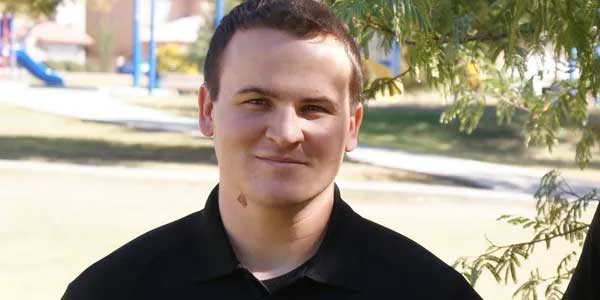 HEAD OF LOGISTICS RICHARD GRANT
Richard is the head of logistics for Griffith Blue Heart. Richard joined the Griffith Blue Heart team after his service in the United States Marine Corps where he served as a Sergeant running field radio operations. Through his service as a Marine, Richard deployed overseas twice where he established and maintained radio frequencies and multiple vehicle convoys. After serving as a Marine for his country, Richard decided to continue his service as a public servant in his home State of Arizona. After moving home, he was accepted in the police academy and became a certified police officer.
Richard serves as a State Trooper for the Arizona Department Of Public Safety.
Richard has proven he has a passion for helping others and learned through his field experience as Trooper and Marine the importance of continuous training, ingenuity, and quality improvement. Richard is a multi-disciplined Instructor teaching radio operations, stop the bleed, Cardio-Cerebral Resuscitation, and AED program assembly and registration. He constantly volunteers for training events, advocacy, and education. Richard overseas Griffith Blue Heart ordering, distribution, assembly, registration, and delivery.
TRAINING DIVISION LEADERSHIP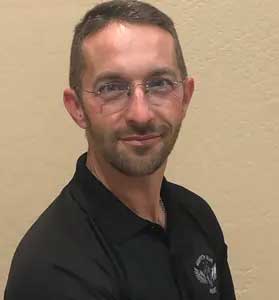 TIM FREUND-Director of Training
Tim Freund is the Director of Training for Griffith Blue Heart Nonprofit. He is an active SWAT medic, dedicated EMS manager, volunteer, and a highly experienced multi-disciplined instructor and subject matter expert. Tim began teaching first aid and CPR in 1992 in Columbus, Ohio which led him to his career in emergency medical services in 1996. Tim has been fortunate to work across the healthcare spectrum from pre-hospital, to in between hospital, and in-hospital care. As an EMT and Paramedic, Tim has worked in rural, sub-urban, urban and austere environments.
Tim has 12 years' experience as a flight paramedic and worked in the emergency department at Level 1 trauma centers for adults and pediatrics. With approximately 25 years of educating and irreplaceable field-experience, Tim has an unmatched passion and commitment to instructing others and pushing them to save lives. Tim has served for over 12 years as a SWAT medic and sits on the Tactical EMS sub-committee for Arizona Tactical Officers Association. Tim holds certifications as an Instructor for American Heart Association, the American College of Surgeons through NAEMT, the American College of Emergency Physicians, the National Disaster Medical System and the American Burn Association. He has been recognized as a Subject Matter Expert ("SME") by the Arizona Peace Officer Standard and Training board and the State of Ohio Division of EMS. Besides formal instructor certifications, Tim has served as a mentor and preceptor to new EMTs, paramedics, air medical flight crews and tactical paramedics. Tim has provided medical consultation and developed countless programs for law enforcement, EMS, and the public.
Tim has saved so many lives and epitomizes what it means to serve and be a team player. He understands adult learning styles and the importance of realistic training for skills retention, and performance in real emergency situations. His "can do" attitude, adaptability, and genuine character are infectious and inspiring. It is impossible to know how many lives have been saved and impacted because of Tim's instructional programs and relentless will to help others. Griffith Blue Heart's training programs have been developed by Brandon and Tim and are ever-adapting based on research, field-experience, and continuous quality improvement. Griffith Blue Heart is truly fortunate to have Tim with his commitment, passion, and heart as a member of our team.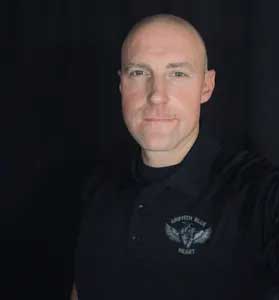 JOSH WELLS
Josh Wells is an Instructor for Griffith Blue Heart and an Arizona native who grew up in the mountains of Flagstaff, Arizona. He earned a scholarship playing football at Northern Arizona University where he obtained his bachelor's degree in recreation management. After College, Josh moved to Colorado for a management position with the Marriott Vacation Club. Although he enjoyed his work, Josh could not ignore his true calling to make a difference in emergency medical services.
Josh followed in his older brother Aaron's footsteps to become a firefighter. Josh began his career as a firefighter at the Vail Fire Department in Colorado. In 2005, Josh moved back to Arizona build his fire service career closer to his family. Josh met his wife Faith while teaching a CPR course at their local hospital. They have raised 3 incredible children together Ezekiel, Jaiden and Amalie.
Josh worked his way up the chain of command and is now a Captain Paramedic for the Sedona Fire District with over 17 years' experience in fire service. Josh is a life-long student with an obsession for learning and increasing his skill set. Josh continues his education having also earned 2 more degrees in fire science and emergency medicine. Josh is a writer with a passion for furthering public service and has published multiple articles with Fire Engineering magazine and even recently authored a book "The Promotion Playbook" helping public safety to navigate the rigorous promotional process. Josh is an accomplished public speaker having spoken at countless events, recognitions, and conferences including the Fire Rescue International and EMS World Expo.
Josh and Brandon met at an EMS conference in 2015 and instantly shared a passion for increasing survival and public service. From there, Josh and Brandon collaborated on countless projects, events, recognitions, trainings, speaking engagements, and public safety events. When Griffith Blue Heart was first created, Josh fit in instantly and hit the ground running. Griffith Blue Heart is truly honored to have such an exceptional instructor who exhibits the right heart and passion to make large impacts and help others.
NONPROFIT BOARD OF DIRECTORS
VICE PRESIDENT MICHAEL RHODES
Sergeant at Arms Michael Rhodes is an Arizona native and highly accomplished police officer and SWAT operator. Mike has his degree in criminal justice and previously held an EMT certification in Arizona. Michael has responded and conducted CCR on dozens of patients in the field. Michael has been instrumental in incorporating new programs for SWAT and patrol. Michael has been awarded and recognized for his achievements in the field over the years including the honor of being named "Officer of the Year" in 2016. Michael has been awarded multiple life-saving medals and understands what it means to be a public servant. Michael has a true passion for helping others continuously pushes himself and those around to higher standards.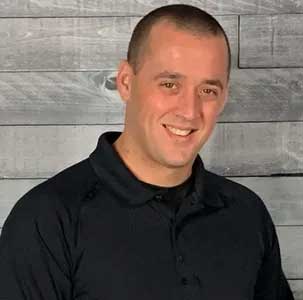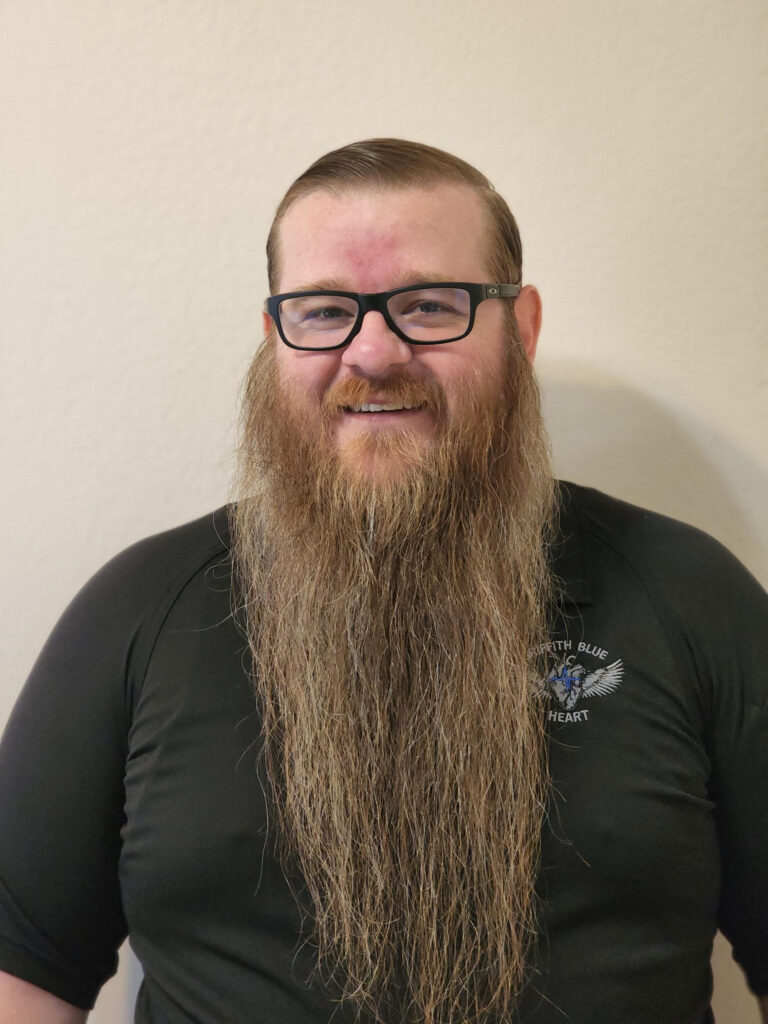 TREASURER AARON JOHNSON
Treasurer Aaron Johnson is an Arizona native who works as a finance manager in the governmental public sector. Aaron has his bachelor's degree in Interdisciplinary Studies with a focus on education and communication from Arizona State University. Aaron has his master's degree in in Business Analytics from Grand Canyon University. Aaron got involved in cardiac arrest advocacy after his life-long friend survived an out-of-hospital ventricular fibrillation incident. After seeing how saving one life from a cardiac arrest event affects multiple groups of people, Aaron got involved and began giving his time to help save lives of those suffering cardiac incidents.
SECRETARY KATHIE REILLY
Secretary Kathie Reilly is an out of hospital sudden cardiac arrest survivor diagnosed with "Long QT", Kathie has been saved multiple times by her automated implantable cardioverter-defibrillator (A/ICD). She is the president of Arizona Cardiac Arrest Survivors group. Kathie is an elementary school teacher and a fierce advocate. She has led multiple cardiac programs, mentored survivors, testified before legislators on cardiac bills, and educated countless children. Kathie is most grateful for her chance to live each day being there for her two children, family and friends. Kathie often states "I'm not a victim of cardiac arrest, I'm a survivor of it. My Scars tell my story and give me hope. My story…is not yet over".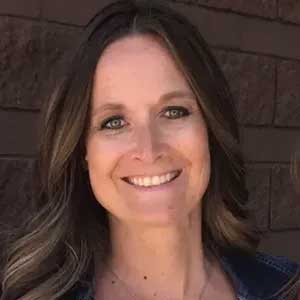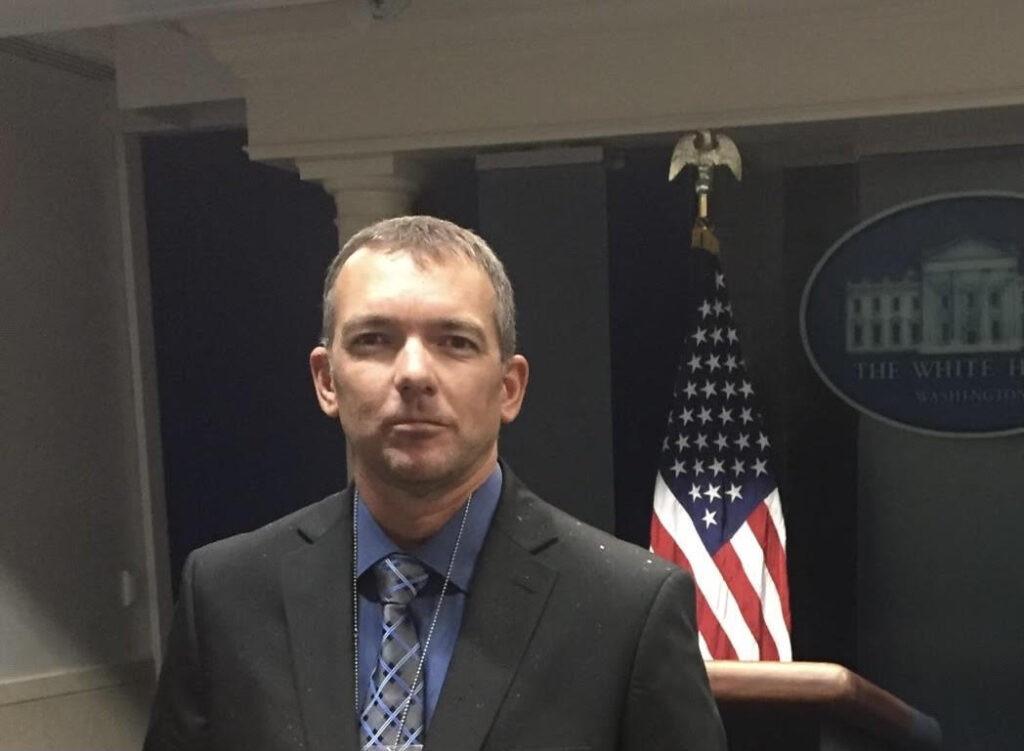 SERGEANT AT ARMS CHRISTOPHER HOYER
Sergeant at Arms Chris Hoyer is a retired Police Officer from Arizona but born and raised in New England. Chris is a protector, survivor and advocate for mental, physical and emotional wellness. After twenty-plus years as a street cop, having been faced with the worst horrors imaginable, he turned his focus to training, writing, public speaking, and helping the law enforcement community prepare for the realities and trauma that comes with the job. An outspoken speaker to thousands, including first responders, mental health professionals and various professional entities, sharing his story, instruction and experience now save lives. Chris is the author of "WHEN THAT DAY COMES. TRAINING FOR THE FIGHT" where he discusses tactics, preparation and survival on every level necessary in today's climate. Chris is an incredible wealth of experience, advocacy, and insight. Griffith Blue Heart Nonprofit is honored to have him serving on our board.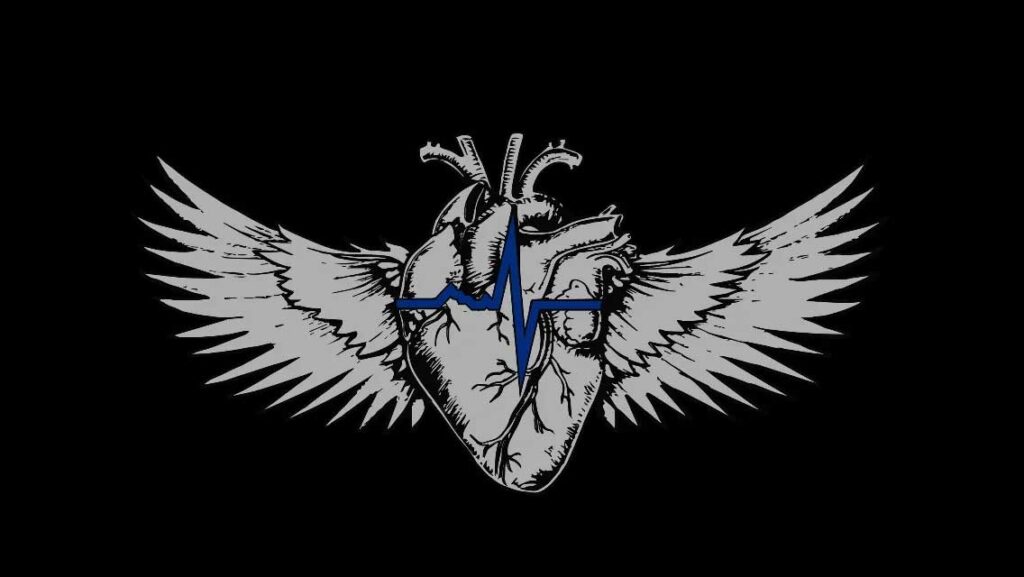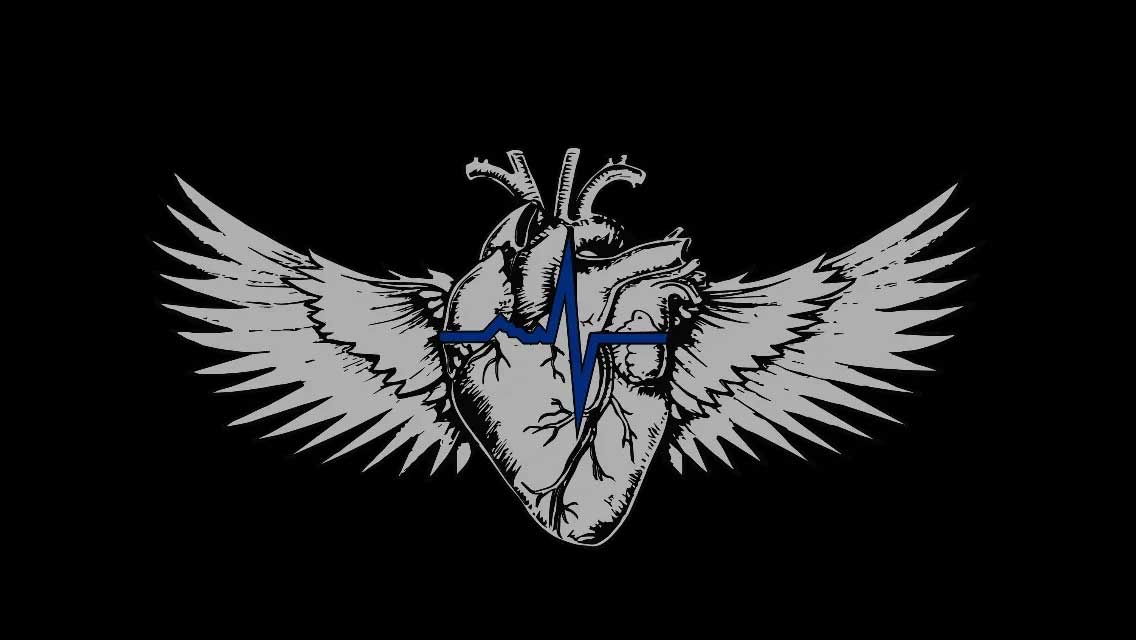 After recovering from my cardiac arrest and returning to working the streets, I knew I wanted to create a symbol honoring my wife and savers. Furthermore, after extensive research, I could not find any awards specifically made honoring police officers for cardiac saves in the field. Melissa and I were asked to create an award named after us for future cardiac saves by police officers. The two of us sat down and decided what elements to put into our symbol that had profound meaning and inspiration. The only problem was neither of us had any artistic ability. So I approached my tattoo artist, Joe Haley, and asked him to use his incredible talent to help us bring our symbol to reality. We got together and created the logo you see here.
The spread wings you see in the logo are the wings of St. Michael the Archangel. St. Michael is the Patron Saint of Police Officers who led God's Army and defeated the Devil. St. Michael watches over Police Officers and their families. The anatomical heart in the middle has a multitude of meanings. First of all, the heart is a symbol of love and represents the love that Melissa and I have for each other as husband and wife. Second, we chose the anatomical heart to be symbol for cardiac arrest survival and all we went through together. Third, the anatomical heart is a great representative for Melissa's profession as a cardiovascular perfusionist. The thin blue line running across the heart is in tribute to my fellow brother police officers (including the one who took over CPR/CCR for Melissa during my cardiac arrest) who stand watch every second of our lives between order and anarchy. You'll notice the thin blue line is not straight as it normally is. The thin blue line is in the exact shape of my actual heart beat from the electrocardiogram (EKG) after I was shocked back to life. I was able to get the EKG strip from the crew that worked on me when I was actually shocked on scene and incorporate it into our logo. The EKG heart beat is also in tribute to all the fire fighters, paramedics, and emergency medical technicians that are out there every day saving lives.
When the symbol was complete, Melissa and I made it into an award for police officers and their family members that have cardiac saves. We gave out the first Griffith Blue Heart awards to two police officers for an in-field save of a cardiac arrest patient in May of 2015. We have been awarding police officers and their family members for cardiac saves ever since.
Melissa and I take so much pride in our symbol and all it means to us. Shortly after creating the symbol with Joe Haley, I had him tattoo it to me and I wear it with pride. When Melissa and I decided to expand Griffith Blue Heart LLC, we couldn't imagine a better symbol for our company with all its meaning.