Police Resuscitation Explained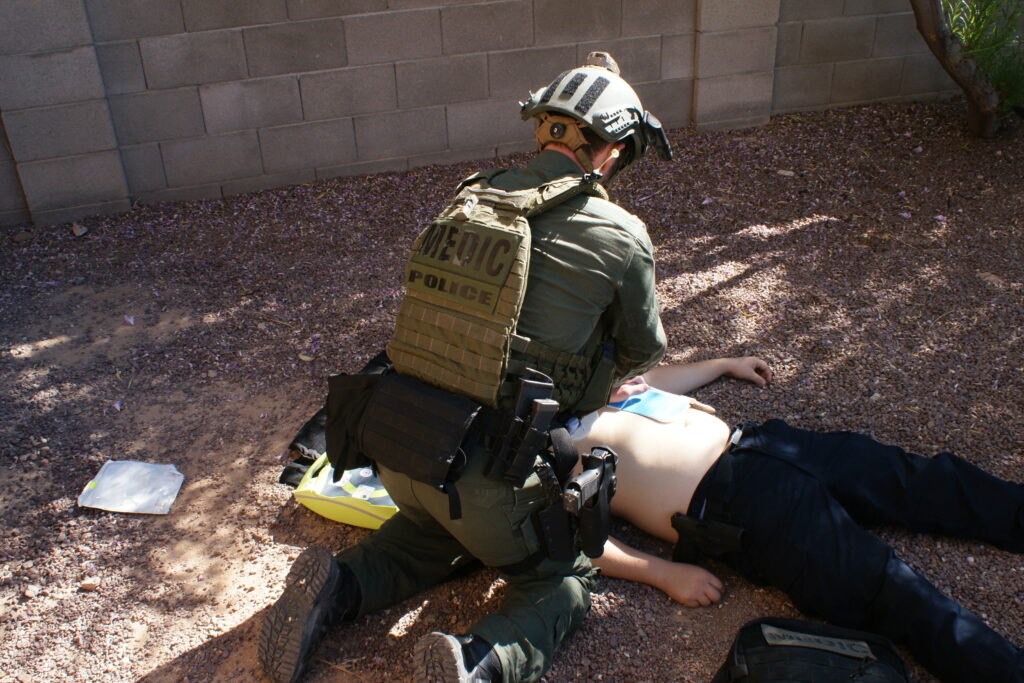 What is sudden cardiac arrest "SCA"?
Sudden cardiac arrest is a medical emergency which usually results from an electrical malfunction in the heart disrupting the blood flow to the brain, lungs, and vital organs. Loss of consciousness and a cessation of breathing results from the abrupt loss of heart function.
Despite common misunderstandings, cardiac arrest is not a "heart attack". Myocardial infarctions ("heart attacks") occur when a blocked artery prevents oxygen-rich blood flow to a section of the heart.
How deadly is heart disease?
Heart disease is the global leading cause of death taking the lives of approximately 17 million people each year. Cardiac arrest with its sudden onset and limited window for emergency medical intervention is particularly deadly with only 1 out of 9 people surviving an out-of-hospital sudden cardiac arrest. Bystanders and first responders have little time to provide CPR/CCR and shock therapy from a defibrillator before a patient sustains irreversible brain damage or is unable to be resuscitated.
How important is CPR/CCR and rapid defibrillation?
The only effective treatment for sudden cardiac arrest is CPR/CCR and a shock from an AED administered as quickly as possible. The American Heart Association reports that for every minute a person is in cardiac arrest, their chance of successful resuscitation decreases by 7%-10%. With cardiac arrest, every second counts. Defibrillation within the first 3 to 5 minutes can result in up to a 49% -75% successful resuscitation rate. 
Isn't medical care the responsibility of Fire/EMS?
Fire/EMS are critical components of the chain of survival and the providers of advanced life support in medical emergencies. However, Fire/EMS are not our fastest first responders. Rapid resuscitation and defibrillation are everything when it comes to survival of sudden cardiac arrest.
Fire and EMS have response time goals of 6 minutes to 90% of their 9-1-1, which is an NFPA1710 recommendation. Most fire departments are not currently at that goal and it is not uncommon for 8-12-minute response times. Furthermore, time to first shock once on scene can be anywhere from 3-11 minutes.
Due to advocate response, Fire and EMS personnel cannot leave a patient to respond to another medical incident without getting their current patient the proper care they need, (although an inbound crew can be diverted to a higher priority). When the closest fire and EMS crew is treating a patient, the next closest crew gets dispatched, which can significantly impact response times.
Medical care of time sensitive emergencies like sudden cardiac arrest is the responsibility of EVERYONE. Law enforcement just happens to be our fastest first responders.
Can police effectively respond to time sensitive medical emergencies like sudden cardiac arrest?
Municipal police agencies tend to have 1-4 ½ minute response times to their highest priority calls for service. Law enforcement's faster response times gives them an upper hand on managing time-sensitive medical emergencies like sudden cardiac arrest, emergency hemorrhages, overdoses, etc. Police are on patrol 24/7 throughout their jurisdictions. Being decentralized when dispatched allows officers to respond to calls for service faster than fire and EMS.
Entire squads of police officers are on patrol in the field at any given moment in multiple emergency vehicles. This allows officers to rapidly respond to calls for service individually from the field instead of jointly responding in a single emergency vehicle from a fixed location like a fire/EMS station. Unlike fire/EMS crews, police officers can leave non-priority calls (for example barking dog calls or civil matters) to respond to more urgent emergencies.
How important is it for police departments to carry AEDs in their patrol vehicles?
Defibrillation from an AED within the first 3 to 5 minutes (the electrical phase) can result in up to 70%-88% successful resuscitation rate. Municipal agencies tend to respond within 1-4 ½ minutes to their "hot calls" uniquely positioning them to provide rapid defibrillation in sudden cardiac arrest emergencies.
4 out of 5 sudden cardiac arrest incidents happen in the home. Most of the population is not equipped with an AED in their residence. Officers constantly patrol the neighborhoods of their communities giving them the advantage to use their life-saving training and issued AEDs. Police are calm, trained professionals who thrive under pressure, will not hesitate to act, and are eager to save lives.
We would not send officers to an active shooter without the proper training and equipment, so why are we sending them to the number one cause of death without the life-saving tools they need?
References
Mehra R. Global public health problem of sudden cardiac death. J Electrocardiol. 2007;40(6 Suppl):S118-S122. doi:10.1016/j.jelectrocard.2007.06.023
NFPA® 1710 Standard for the Organization and Deployment of Fire Suppression Operations, Emergency Medical Operations, and Special Operations to the Public by Career Fire Departments 2010 Edition
American Heart Association, Every Second Counts: Rural and Community Access to Emergency Devices (Washingtom, D.C.: American Heart Association, 2014), http://www.heart.org/idc/groups/heart-public/@wcm/@adv/documents/downloadable/ucm_462303.pdf.
Cardiocerebral and cardiopulmonary resuscitation – 2017 update Gordon A. Ewy. Acute Med Surg. 2017 Jul; 4(3): 227–234. Published online 2017 May 26. doi: 10.1002/ams2.281
Ewy GA, Bobrow BJ. Cardiocerebral resuscitation: an approach to improving survival of patients with primary cardiac arrest. J. Intensive Care Med. 2016; 31: 24–33.